Our Services.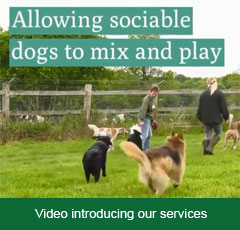 Copied Hall Kennels
Free Range Kennelling allows sociable dogs the opportunity to mix and play with other dogs during the day, but have their own individually allocated kennel at night for the duration of their stay. However if you opt for your dog(s) to be kept apart from others they will be given a family pen with their own yard and allotted bedroom. All dogs will be run off the lead in our big grassy field or orchard twice a day in groups or individually.
| | |
| --- | --- |
| One of our communal yards. | Playtime in the field. |
Individual Kennels
Dogs that are not suited to the free-range kennelling system will be given a family pen with their own yard and bedroom.
Girly Wing
Bitches in season will be kennelled in our 'girly wing' where they can be safe but still have company.
Sleeping and Bedding
Dogs are supplied with plastic beds of varying sizes and plenty of soft fleecy veterinary bedding. Kennels are heated during the cold winter nights and have their own individual thermostats. If you wish to you may bring your own dog bedding, however this is not encouraged as our own bedding gets washed and changed regularly. Home bedding can be difficult to keep clean when dogs are in and out from walking in the field. If you do bring some make sure it is clearly named.